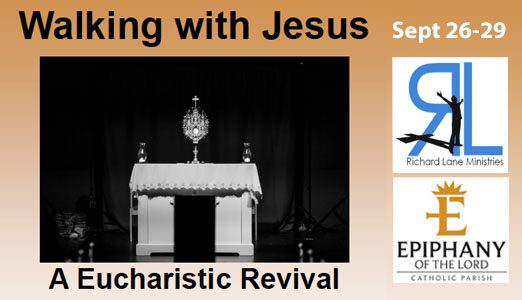 Walking with Jesus: A Eucharist Revival
Epiphany of the Lord at St. Thomas, 729 White St.
– Sept. 26-29: Monday-Thursday: 10 am or 7 pm
• Monday, Sept. 26, 10 am** and/or 7 pm: Encounter
• Tuesday, Sept. 27, 10 am and/or 7 pm: A Cloud of Witnesses
• Wednesday, Sept. 28, 10 am and/or 7 pm: Moving in the Spirit– Come on in, Lord!
• Thursday, Sept. 29, 10 am and/or 7 pm: Get out– GO! Go and make disciples!
**morning presentations are slightly abbreviated versions of the evening topics
Join us for Mass at 9:30 am on Tuesday, Wednesday, and Thursday!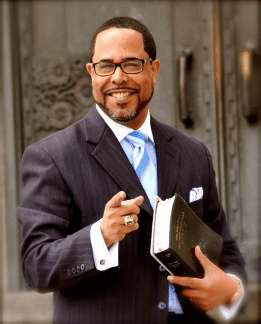 Grab your bible.
Grab your friends.
Grab your family.
Richard's family-friendly approach is suitable for all ages so bring the youngest and oldest members of your circle and everyone in between!
You won't want to miss this!
Brought to you by Epiphany of the Lord Catholic Parish and Richard Lane Ministries.
All events take place at Epiphany of the Lord at St. Thomas– 729 White Street, Toledo
richardlaneministries.com
epiphanyofthelord.org