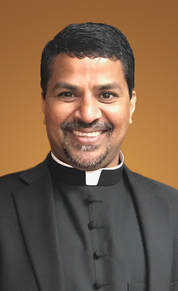 Greetings with the love of the Lord to my friends of Epiphany,
I felt my calling to be a Priest at a young age and have always been willing to go where Christ has called me! I am sincerely blessed to return to Epiphany with its diverse cultural experiences, highly professional office staff, and heartfelt commitment to our multi-generational community. Pulling together as a team, following through on projects, and bonding among our three churches make this beautiful mosaic of one – united. By definition, the word "catholic" means all-embracing, universal and here at Epiphany, we live out the meaning of that word.
For those who do not know my background, I grew up on the southwest coast of India in the Diocese of Mangalore. I come from a strong, Catholic family consisting of one older brother and three younger sisters. My parents and two of my siblings still live there, where one is a nun. The other two siblings are in Dubai. My mother and father are preparing to celebrate their 50th wedding anniversary in 2019. Seven of my first cousins are also blessed with religious vocations. Along with my sister and I, that makes nine priests and nuns in our family!! I travel once a year to India to visit my family and spend some time in the places where I worked prior to coming to the Diocese of Toledo.
When I was 16 and a half I joined the Society of the Catholic Apostolate, popularly known as the Pallottine Fathers and Brothers. The Societas Apostolatus Catholic (SAC) was founded by St. Vincent Pallotti (1795 -1850) in 1835. My order is headquartered in Rome and we minister in over fifty countries. St. Vincent Pallotti's dream was to enable lay people to assume their proper role in the mission of the Church and to establish a community to translate that vision into a reality. As a Pallottine I am here, together with the Diocese of Toledo, to help the faithful see that they are essential members of the Church's mission. Together with clergy and those in consecrated life, we are all sent out as apostles for the Church and the World.
I was ordained the 1st of May in 2003 at my home parish of St. Anthony's Church, Bannur-Puttur in the Diocese of Mangalore. Prior to ordination, I earned Bachelor degrees in philosophy, social work, and theology as well as a Masters degree in sociology. During my career, I have had the blessing of ministering in India and the Diocese of Toledo at parishes and schools.
My main hobby is cooking Indian cuisine, and I also like to fish. While I like sharing Indian food with others, know that I am open to any invitations you extend for me to join you for American cuisine. I just haven't gotten used to sloppy joes or mashed potatoes… yet! I also enjoy traveling and meeting new people. In the nearly four years since I moved to the United States, I have had many opportunities to interact with new people and have new experiences. Since it is very hot in India, the winter weather has been a big adjustment. I have also had to get used to driving on the right side of the road and not having to manually shift with my left hand. Driving here is boring and much quieter, though. I don't have to keep one hand on the horn to let people know that the road belongs to me!
I am overjoyed to share the Good News of the Lord as well as fellowship with the people of Epiphany of the Lord. East Toledo is such a vibrant community where we work, have fun, and help those in need. Just like the early Christians, we come together to pray, break bread, and celebrate our lives in all of our joys and sorrows.
I am blessed to be on this pilgrimage with the wonderful, hardworking, fun-loving, committed people of this parish. In 2014, my religious order sent me to the United States to minister in the Diocese of Toledo at the request of the Bishop. I was honored when Bishop Thomas assigned me here as your associate pastor and it is an honor to return as your pastor to continue the journey of our faith. This is a blessing full of many graces.
Yours in Jesus name,
Rev. Gilbert Mascarenhas, SAC