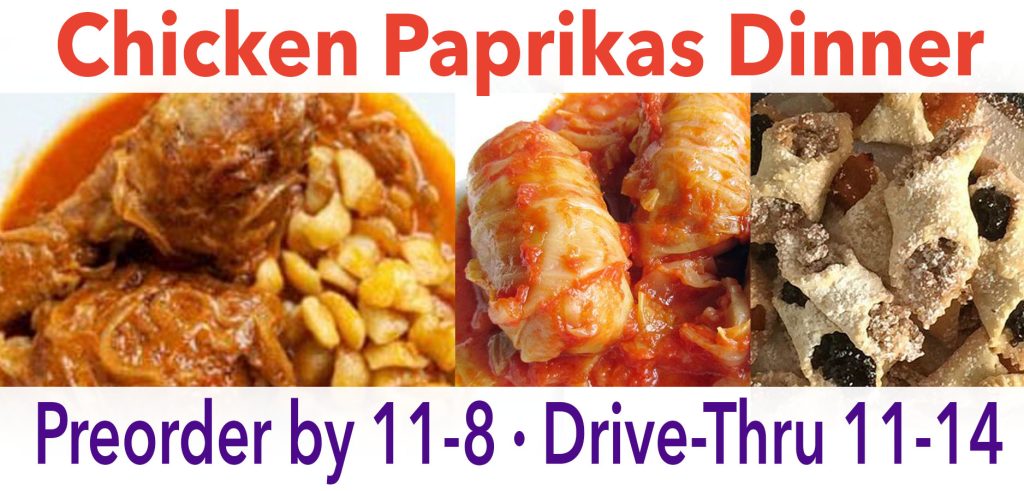 CHICKEN PAPRIKAS Drive-Thru Dinner
Please PREORDER your Epiphany of the Lord Parish "world famous" St. Stephen CHICKEN PAPRIKAS for our drive-thru dinner next Sunday, November 14, 2021.
Please place your orders by MONDAY, NOVEMBER 8th!

This dinner includes: chicken paprikas, stuffed cabbage, coleslaw, bread and butter, and dessert.

Dinners cost $15.00 each. You can fill out the Order Slip CLICK HERE and turn it in the collection basket with cash or check, or you can call the Epiphany of the Lord Parish Office, during normal business hours during the week at 419-698-1519 to place your order by using your credit or debit card.

Pick up your dinners at our Drive-Thru: SUNDAY, NOVEMBER 14, 2021 from 1 to 3:30 pmat our St. Stephen Campus on 1880 Genesee Street – signs will be posted.

Thank you for all the ways in which you support our Parish.