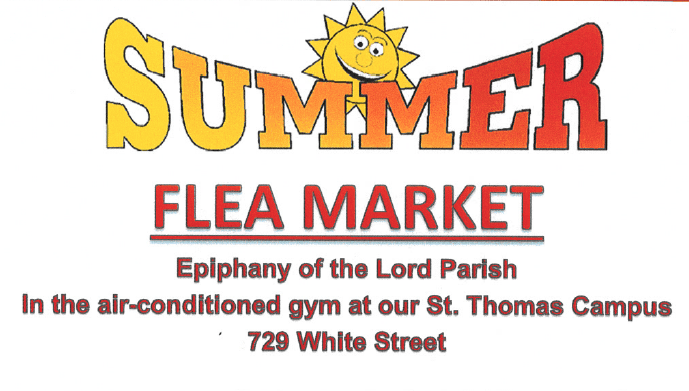 Summer Flea Market
Epiphany of the Lord Parish
In the AIR-CONDITIONED gym at our St. Thomas Campus – 729 White Street, Toledo, OH 43605
Come Shop these Dates & Times
Thursday, July 22, 9am to 7pm
Friday, July 23, 9am to 5pm
Saturday, July 24, 9am to 1 pm
FLEA MARKET NEWS: Are you ready to get rid of things you no longer need. We are looking for any fleas hiding in your attic, garage or basement for our summer flea market. We are in need of some zippered bags for linens, paper & plastic bags, and newspapers. Workers are also needed for our sale days so please call Barbara Bachar if you are available to help out 419-693-3132.
OUR DROP OFF DAYS & TIMES
TUESDAY July 20: 3pm to 7pm
LAST DAY TO DROP OFF: WEDNESDAY July 21: 9 am to 1 pm
PLEASE NO ELECTRONICS, TV'S or CLOTHES!!