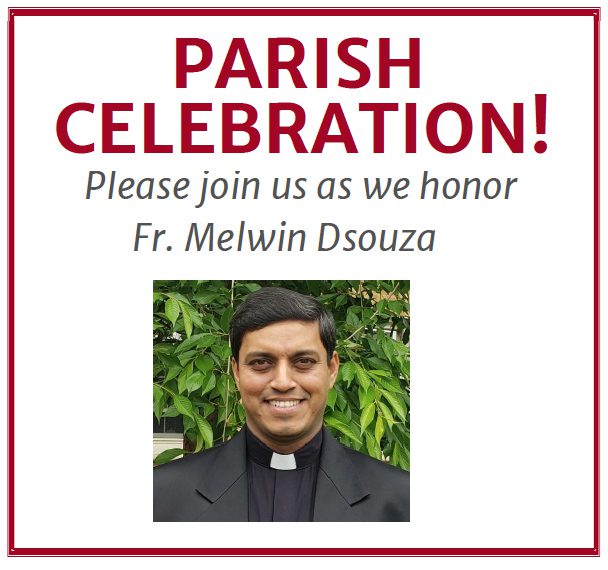 Parish Celebration: Fr. Melwin
Please join us as we honor Fr. Melwin Dsouza
Thank you, Fr. Melwin, for your ministry at Epiphany of the Lord Parish. We will miss you and send you with our prayers as you move on to serve as pastor of St. Michael's Ridge and St. Isidore at both Marysdale and the Bend in rural Defiance County.
Sunday, June 27, 2021
10:30 am Mass*
at Epiphany of the Lord at St. Thomas
Reception after Mass until 1:30 pm
(food served, masks optional, no social distancing)
From 1:30-2pm, drive-through receiving line
(masks required, Fr. Melwin will be in the parking lot;
drop off a card and say a quick 'farewell')
Please call Kathy Singlar at 419-262-4216 to see how you can help with the reception.
*4 pm Mass takes place as usual. There are no Masses at Sacred Heart or St. Stephen on Sunday.
Please remember that July 3-4, the Mass schedule permanently changes to:
Saturday, 4 pm- EOL at St. Thomas;
Sunday, 8:30 am- EOL at St. Stephen; Sunday, 10:30 am-EOL at Sacred Heart