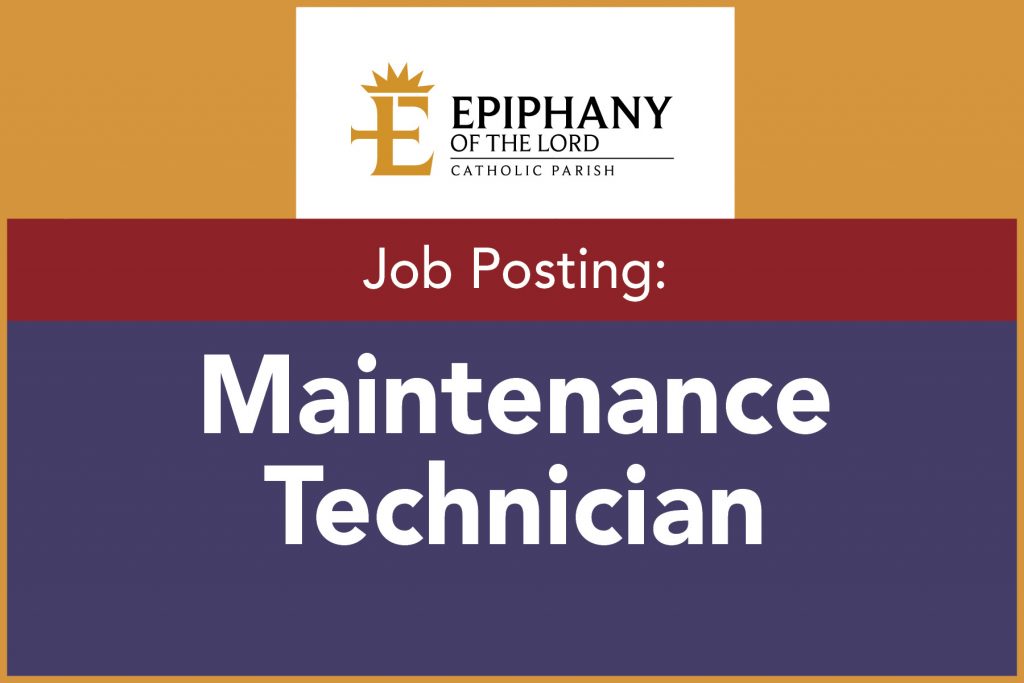 Maintenance Technician
Epiphany of the Lord Parish
Epiphany of the Lord Parish, a unique Catholic parish comprised of three distinct campuses located in East Toledo, is searching for a part-time Maintenance Technician. The maintenance technician will work as part of the maintenance team to provide effective, efficient, and safe upkeep of the parish campuses. This position reports to the Business Manager and works closely with the pastor and other staff. The Maintenance/Custodial Technician must have good communication and basic technology skills, general maintenance knowledge and problem-solving ability; should be a self-starter, conscientious and able to work independently; must be able to work outdoors under adverse weather conditions, climb ladders and stairs, stand for long periods of time, and lift and carry heavy objects.
Essential Duties and Responsibilities:
Requires general knowledge of maintenance practices and facilities upkeep. 
Operates various equipment and performs various maintenance activities within established time frames. 
Responds to emergency situations during and after hours. 
Performs daily operation and maintenance of boiler systems. 
Provides set up, teardown, and cleanup for special events, meetings, and/or other functions 
Perform other related duties as assigned by Business Manager 
Must successfully pass the required background check and all requirements of the Program for Child and Youth Protection. 
Must maintain a valid driver's license and insurance. 
Candidates must have the ability to respect, promote, accommodate, and not be in conflict with the mission, moral and social teachings, doctrines, and laws of the Roman Catholic faith.
Qualified candidates please submit cover letter, resume and salary expectations to:
Rev. Eric Mueller, Pastor, Epiphany of the Lord Parish, freric@epiphanyofthelord.org. 
Click link to print this job posting for: Maintenance Technician