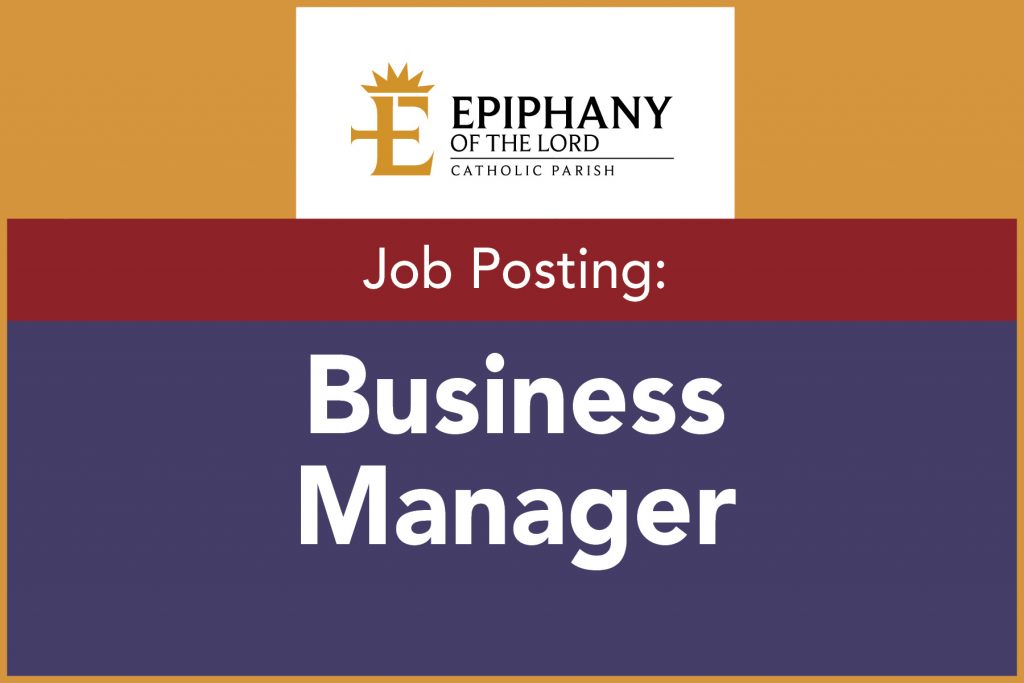 Business Manager
Epiphany of the Lord Parish
Epiphany of the Lord Parish, a unique Catholic parish comprised of three distinct campuses located in East Toledo, is searching for a full-time Business Manager. The Business Manager provides leadership and day-to-day supervision of the temporal affairs of the parish in such a way as to enable the Pastor to concentrate on the spiritual affairs of the parish. The Business Manager oversees the administrative and business functions of the parish in an accurate, efficient, thorough, professional, and timely manner, which will strengthen the Church and give the appropriate administrative foundation to support the pursuit of the parish's mission, ministry, and growth.
Essential Duties and Responsibilities:
Assures that sound financial management is practiced by the parish. This includes development and monitoring of budgets, management of all financial transactions, and compliance with all government and diocesan policies and procedures. 
Responsible for the effective, efficient, and safe upkeep of the parish campuses. Oversees, coordinates, and manages Capital Improvement projects, maintenance schedules and staff. Oversees maintenance purchases and repairs and manages parish facility leases and rental properties. 
Responsible for managing the Human Resources needs of the parish, including recruitment of employees, maintaining employee records, and ensuring compliance with employment laws and diocesan policies 
Supervises all parish employees not directly accountable to the pastor. 
Coordinates with staff and volunteers to participate in staff planning and operational meetings; conducts significant dialogue with the pastor so that he is fully apprised of matters being considered and acted on by the parish. 
Qualifications:
The ideal candidate must have a BA/BS degree in Business, Finance, Accounting, or related business discipline, a general knowledge of maintenance practices and facilities upkeep, and successful experience in a supervisory capacity. In addition, interested candidates should possess the ability to develop and maintain positive relationships with employees at all levels and strong written and verbal communication skills, including ability to produce clear, concise reports and recommendations and make presentations to varied groups. Candidates must have the ability to respect, promote, accommodate, and not be in conflict with the mission, moral and social teachings, doctrines, and laws of the Roman Catholic faith.
Qualified candidates please submit cover letter, resume and salary expectations to:
Rev. Eric Mueller, Pastor, Epiphany of the Lord Parish, freric@epiphanyofthelord.org. 
Click link to print this job posting for: Business Manager