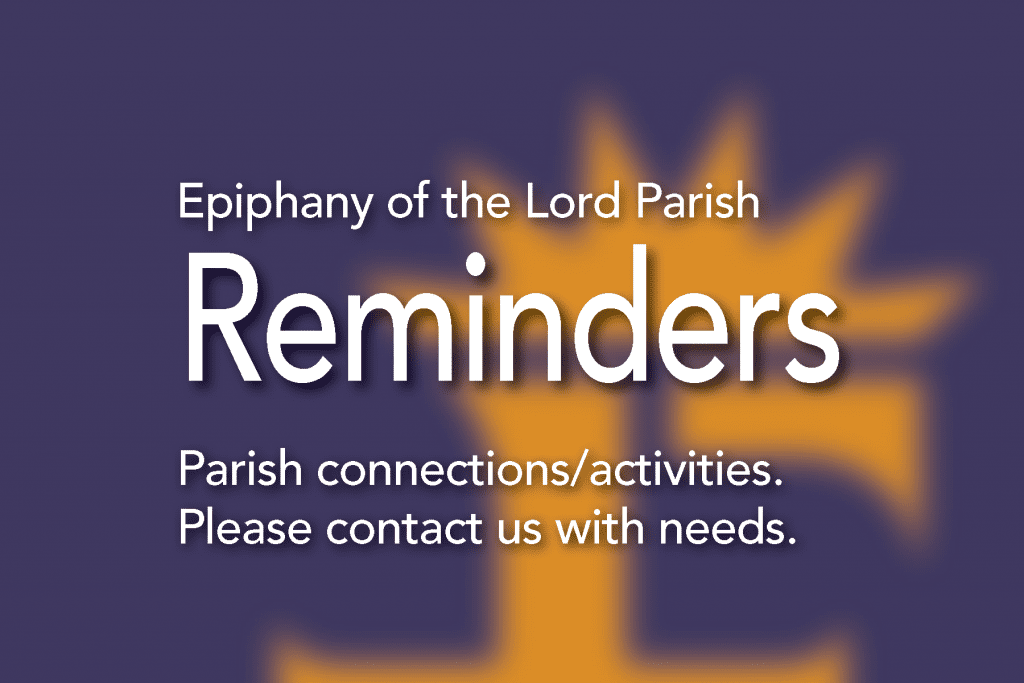 Parish Reminders
We hope everyone is keeping well during this unusual and difficult time in our parish life. This is a reminder that The Epiphany of the Lord Parish Office will continue to remain closed to the public without an appointment until further notice. Our staff continues to work primarily from home to provide for the essential business needs of our parish. Our maintenance staff are reviewing and maintaining our campuses regularly.
Please note:
If you have a pastoral emergency, please contact the emergency line at 419-322-5235.
For all other needs, please call the parish office at 419-698-1519 and leave a voicemail or send an email to ahofbauer@epiphanyofthelord.org. Emails and phone messages are checked daily.
We will continue to provide you with parish updates via the weekly online bulletin, Facebook, the parish app, and parish website at www.epiphanyofthelord.org.
Weekend Mass is being Live Streamed at 9 am on Sunday morning via the parish Facebook page.
Weekday Mass is being celebrated privately by our priests while honoring all Mass Intentions.
Offertory donations are processed every two weeks. We greatly appreciate your patience.
Offertory envelopes can be dropped off at the parish office via the mail slot located at the front door off White Street or sent to 729 White Street, Toledo, OH 43605 via postal service. Online giving is also available at epiphanyofthelord.org/giving/.
Please contact Connie at cschwartz@epiphanyofthelord.org if you have questions or need assistance with online giving.
We thank you for your continued support and generosity.
You remain in our prayers.
God Bless!
Click, if you want to print this LIST.