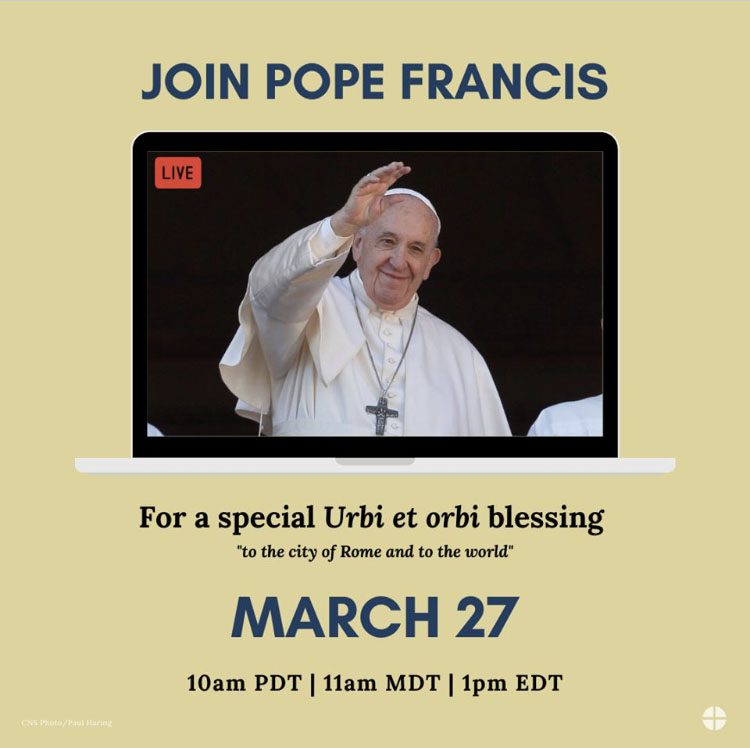 Pope Francis' Live Stream Prayer Event and Receive Extraordinary Urbi et Orbi Blessing
Faithful of the 19 Counties of the Diocese of Toledo to Join Pope Francis' Live Stream Prayer Event and Receive Extraordinary Urbi et Orbi Blessing on Friday, March 27 at 1 pm (our time)
Bishop Daniel Thomas encourages the faithful from the Diocese of Toledo to join Pope Francis remotely in the extraordinary Urbi et Orbi Blessing in response to the Coronavirus (COVID-19) pandemic. Participants will receive a plenary indulgence.
The prayer service will be streamed live from Saint Peters Square to vaticannews.va/en.html on Friday, March 27th at 1:00 p.m. EDT.
The Urbi et Orbi, meaning "to the City and the World," is a blessing customarily only given by the Holy Father at Christmas and Easter.
PLENARY INDULGENCE
The prescribed work:
United spiritually through the media to the Pope's special prayer and blessing on Friday, March 27
The recitation of the Holy Rosary
The pious practice of the Way of the Cross
Or some other form of devotion, such as reciting the Creed, the Lord's Prayer or a pious invocation to the Blessed Virgin Mary
The usual conditions:
A spirit detached from sin
Sacramental confession (as soon as possible)
Eucharistic communion (as soon as possible)
Prayer for the Holy Father's intentions
Resources
– Information on Plenary Indulgences – https://www.catholicnews.com/…/what-is-a-plenary-indulgence…
– United States Conference of Catholic Bishop's video of event at https://www.youtube.com/watch?v=o3uQJsO6bxk&feature=youtu.be