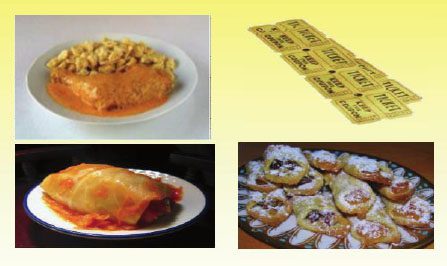 Feather Party & Chicken Paprikas Dinner
Order tickets NOW!!
Come out to our annual pre-Thanksgiving "Epiphany of the Lord Feather Party" featuring our "world famous" St. Stephen Chicken Paprikas Dinner on Sunday, November 17, 2019 in the school hall on Consaul Street.
Our family style dinner will be served beginning at 1:00 PM and includes: chicken paprikas, stuffed cabbage, coleslaw, bread and butter, dessert and coffee.
Ticket prices are $13.00 for adults & $11.00 for seniors (over the age of 60)
Pricing for kids (age 6-12) is $7.00 – age 5 and under eat free
We strongly encourage you to purchase tickets in advance by completing ORDER FORM & returning it to the parish office with a check payable to Epiphany of the Lord. Your tickets will be reserved for you at the door.
Please return your order form by Tuesday, Nov. 12TH
Click the TICKET ORDER FORM
*** PLEASE NOTE: CARRY-OUTS WILL BE AVAILABLE AFTER 2:30 PM ***
RAFFLES will be happening during the Feather Party and there is a BAKE GOODS booth too!
Please BRING an offering of nonperishable food items for our NEIGHBORHOOD FOOD PANTRY. Thank you for all your generous gifts during this season of Thanksgiving, and may God bless you and your families.
We need YOUR help to make this year's Feather Party a huge success! Thanks, again, for all the ways in which you support our Parish!