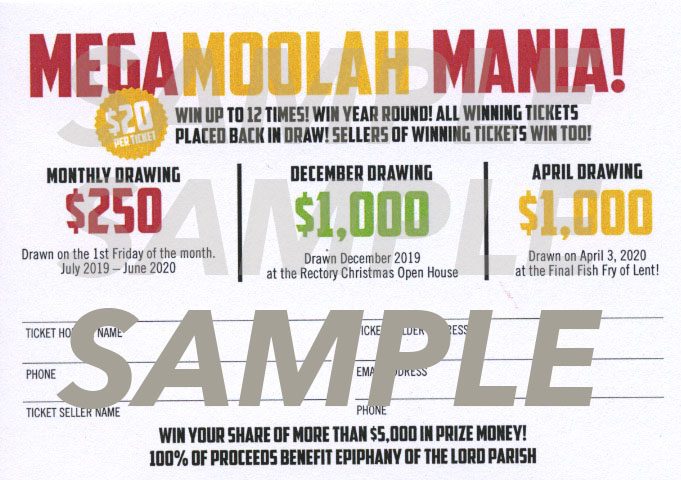 MEGAMOOLAH MANIA!!!
Join in our annual parish raffle! New raffle starts July 5, 2019! Win your share of $5000 in prizes
Ticket cost: $20 each
❖ One $250 winner is drawn each month.
❖ The monthly drawings for Christmas (December) and Easter (April) are worth $1,000 instead.
❖ The seller of each winning ticket receives $50.
❖ Tickets go in all 12 monthly drawings.
❖ Winning tickets are returned for future drawings, so every ticket could win 12 times!
PICK UP TICKETS TO SELL IN THE BACK OF CHURCH OR FROM THE PARISH OFFICE. CONTACT THE PARISH OFFICE (419-698-1519) WITH QUESTIONS.
Win year-round…up to 12 times.
Purchase tickets anytime during the year. Christmas drawing is at the Rectory Christmas Open House and the Easter drawing is April 3, 2020 at the Final Fish Fry of Lent.