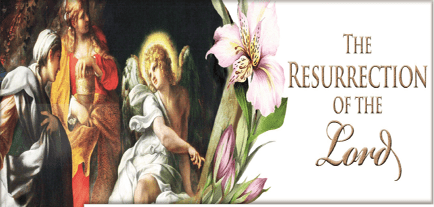 The Resurrection of the Lord
Dear Epiphany Family,
Happy and Blessed Easter! "[I]f Christ has not been raised, your faith is vain; you are still in your sins" (1 Corinthians 15:17). St. Paul reminds us that our faith hinges on the resurrection of Jesus Christ from the dead. We have been freed and set free from sin and death by His death and resurrection. In the sufferings and struggles of life we participate in the sufferings of Jesus, whether we realize it or not. "For you have died, and your life is hidden with Christ in God" (Colossians 3:3). We have died and risen with Christ in the waters of Baptism, and each day He invites us to die to sin and unite our sufferings with His that we might live a new life in Him. "If, then, we have died with Christ, we believe that we shall also live with him. We know that Christ, raised from the dead, dies no more; death no longer has power over him. As to his death, he died to sin once and for all; as to his life, he lives for God" (Romans 6:8-10). Jesus invites us daily to surrender our lives to Him and be nourished within His family, the Church. Our lives intersect with the celebration of the Mass, especially Sunday Mass, the Lord's Day, the day of resurrection, when we are always invited to bring our whole lives, joys, sufferings, and everything in between and unite them to Christ's sacrifice. His one sacrifice is made present to us as is His resurrection, giving us hope to walk alongside Him always.
He is risen indeed and shines His light on the darkness of our world. May the joy of the Risen Jesus fill your hearts.
In Christ,
Father Eric