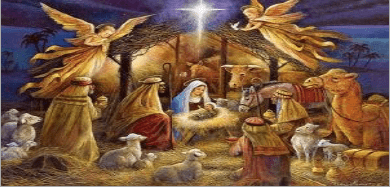 The Nativity of the Lord (Christmas)
Dear Epiphany Family & Friends,
Merry and Blessed Christmas to you and yours! Christmas brings joy because Christmas first made Jesus visible to the world. I have always noticed such a spirit of joy at Christmas Masses, a beautiful gift that Jesus makes to us not only because we celebrate his birth but also because he is always with us. His love, presence, and peace are poured out to us abundantly through the Holy Spirit if we only open our hearts to embrace him. Jesus comes to love us, be close to us, and give us his life. He invites us to intimate friendship with him, a friendship that touches every area of our lives. He calls us to follow him, let go of our illusion of control, and surrender our lives to him. When we do he makes himself more fully present to the world through him living in us. This spirit of joy that Jesus offers us on Christmas is also offered to us each day if we give ourselves to him again and again, which we do so most powerfully when we offer ourselves united with his sacrifice in the Eucharist every Sunday.
Please join us for our parish feast day, the Solemnity of the Epiphany of the Lord, on either Saturday, January 1st at 4pm or Sunday January 2nd at 10am – these will be our only two Masses of the weekend and both will take place at our St. Thomas campus, to revive the practice of gathering more of our parish family together to celebrate our parish feast day. There will be a reception after our Sunday 10am Mass in the St. Thomas hall. We can celebrate Jesus' presence and revelation not only to the world but also of of course in our parish family, as we strive to journey as disciples toward him each day.
In Christ,
Father Eric