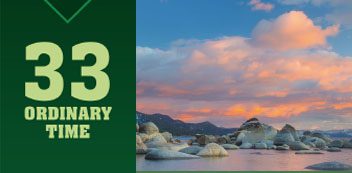 33rd Sunday in Ordinary Time
Dear Epiphany Family,
The Church invites us especially throughout the month of November to pray for the holy souls in purgatory.

Eternal rest grant unto them, O Lord, and let perpetual light shine upon them.
May the souls of the faithful departed, through the mercy of God, rest in peace. Amen.
Many people will include part of this prayer as they pray over their meals, which is a great and simple way to pray for our brothers and sisters who have died and are in need of further purification before attaining the fullness of union with God in heaven.
Praying for the dead should also lead us to consider that we too will die one day, for which we should be prepared daily to meet the Lord. Striving to live in friendship with God each day, living in a state of grace, and seeking and doing His will help keep us on the right path. In the sacraments we encounter Jesus and are strengthened and healed by his life, love, and mercy. One of the sacraments that helps us prepare for death is the anointing of the sick. This healing sacrament can be received multiple times and is not a sacrament for those only at the point of death. The Church reminds us that as soon as anyone begins to be in danger of death from sickness or old age the fitting time for one to receive the sacrament has already arrived. Please do not delay the sacrament for yourself or a loved one; do not hesitate to request it sooner rather than later. It works best to call the parish directly for the sacrament instead of relying on any kind of health care or other facility to ask you about it. The other two sacraments which help us prepare for death and bring healing, life, and peace are confession/penance and Holy Communion (viaticum or "food for the journey" at the point of death). It is sad that people too often are unable or incapable of receiving these two sacraments because of a delay in requesting a visit from a priest. The ideal sacramental preparation for death is to receive the sacrament of penance, anointing of the sick, and Holy Communion in succession. Please do not hesitate to call for yourself, a loved one, or a friend – God wants to bring his peace and life in the midst of suffering, illness, and as we near death.
In Christ,
Father Eric