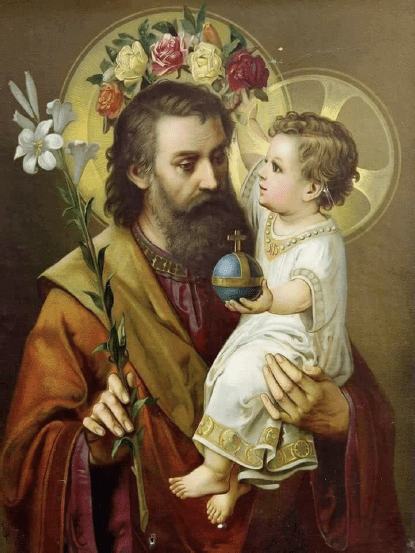 Third Sunday of Lent & Year of St. Joseph
Dear Epiphany Family,
If you had not heard, on just this past Solemnity of the Immaculate Conception (December 8, 2020), Pope Francis announced a Year of St. Joseph in honor of the 150th anniversary of the saint's proclamation as patron of the Universal Church. The Pope established a Year of St. Joseph so that "every member of the faithful, following his example, may strengthen their life of faith daily in the complete fulfillment of God's will." 
St. Joseph is one of my favorite saints and one of my patrons. I took his name as my Confirmation name mostly because it was suggested to me because my oldest brother, who was my sponsor, has the middle name of Joseph. Even though my choice was not the most intentional at the time, I am very grateful to have chosen him and now more fully realize that he chose me and chooses each of us to be his spiritual children as he is a powerful reflection of God the Father's love.
Pope Francis wrote in his Apostolic Letter on St. Joseph,
Patris Corde, "Each of us can discover in Joseph – the man who goes unnoticed, a daily, discreet and hidden presence – an intercessor, a support and a guide in times of trouble. Saint Joseph reminds us that those who appear hidden or in the shadows can play an incomparable role in the history of salvation." His humble obedience and trust are a great inspiration to me. Let us go to him and ask his powerful prayers for ourselves, our families, our parish, and our world. 
You can find more ideas of how to celebrate this year of St. Joseph by visiting https://yearofstjosephtoledo.org/ 
Let us pray together: 
Hail, Guardian of the Redeemer, 
Spouse of the Blessed Virgin Mary. 
To you God entrusted his only Son; 
in you Mary placed her trust; 
with you Christ became man. 
Blessed Joseph, to us too, 
show yourself a father 
and guide us in the path of life. 
Obtain for us grace, mercy and courage, 
and defend us from every evil. Amen. 
In Christ, 
Father Eric