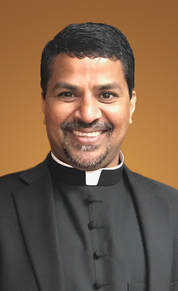 Fr. Gilbert's Farewell
My Dear Friends in Christ, 
In life, I believe that God speaks to us through different events, people, and situations. Six years ago, when I was asked to minister in the Diocese of Toledo, God spoke to me through my religious superior. While serving in the United States of America, God spoke to me through Bishop Daniel E. Thomas in assigning me to different parish communities. Without hesitation, I have always said yes to the Lord, no matter where He was calling me. I believe it was God who brought me here to share His love with all of you.
Firstly, I thank God for His continual guidance in my life, especially during my time in America. I am blessed to have experienced His powerful care, guidance, and love. Though there were many cultural challenges in every aspect of my daily life, I have always experienced God's powerful hand guiding and leading me in carrying out my ministry in the Diocese of Toledo.
Secondly, I thank the Diocese of Toledo, Bishop Thomas, and all the clergy for accepting me. The local Church has kindly welcomed my religious order, the Society of the Catholic Apostolate. Praise be to God that more Pallottines will be ministering in the Diocese of Toledo soon.
Thirdly, I thank my brother priests who have encouraged, guided, and mentored me in my ministry, especially Fr. Mike Geiger, Fr. Tony Vera, and Fr. Melwin Dsouza. I will always treasure their great wisdom and friendship. We have shared many great laughs and memories. Recently, living and ministering with Fr. Melwin has been a great joy. Thank you, Fr. Melwin, for your care, generosity, and love.
Fourthly, I thank the pastoral staff, parish councils, and various committees of Epiphany of the Lord who always stood by me to grow the parish where it is today. They have been a great source of strength and support in my priestly ministry. I will forever cherish my experiences with these dedicated teams.
Finally, I thank each one of you, my dear friends, and parishioners. Without you, I would not be here today. From the depths of my heart, I thank you for all that you have been to me. Truly, I will never forget your great faith and friendship. In each of you, I found the love and mercy of Jesus Christ. May God be your reward for all that you have done for me. I also thank you for the many kind and thoughtful cards and wishes. Just as you extended a warm welcome to me, I ask that you share the same hospitality with your new pastor, Fr. Eric Mueller. I am certain that he will be a faithful shepherd to all of you. As we continue to walk the journey of our faith, may we never fail to love one another. May almighty God, who is the source of all happiness and hope, guide you towards Him. Until we meet again, be assured of my prayers for you. Likewise, please pray for me. God bless you!
Forever in Christ, 
Fr. Gilbert Mascarenhas, SAC