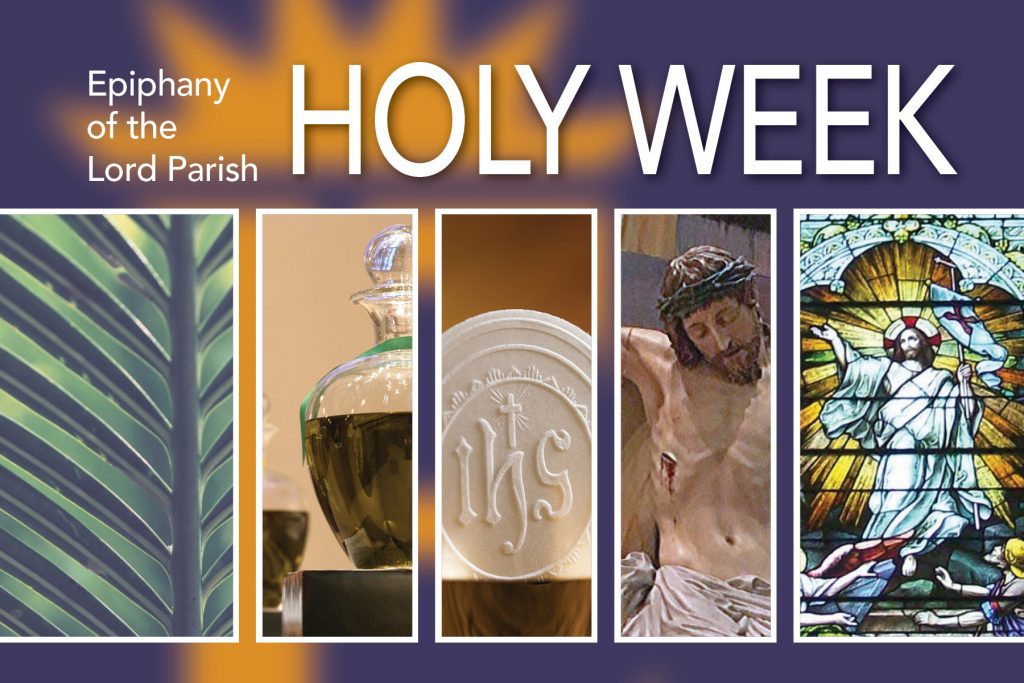 Palm Sunday & Holy Week
My Dear Friends in Christ,
Since the suspension of all public Masses, Father Melwin and I have been faithfully celebrating Mass daily for all your intentions. As many of you know, the observance of Holy Week, a sacred time in our liturgical calendar, is quickly upon us. While Palm Sunday and the Sacred Paschal Triduum will not be celebrated publicly, I encourage you to greatly intensify your prayer and fasting for the whole world in the days ahead. Thank you for all those who attended our Lenten Penance Service. May we all continue to prepare our hearts and minds for Easter glory through increased prayer and fasting.
I would also like to thank everyone for your many prayers and support throughout this Lenten journey. My health is continuing to improve; however, I am still battling a persistent cough. Despite this small sacrifice, be assured of my constant prayers for you as we enter the holiest days of the year. My hope is that we all may experience the Paschal Mystery— the life, death, and resurrection of our Lord in a spiritually profound way. Additionally, I continue to ask for your loving prayers for me and Father Melwin. Below, you will find the Holy Week Mass schedule with Bishop Thomas. In viewing these livestreams, may we all remain spiritually united with one another.
Palm Sunday – Jesus' Triumphal Entry into Jerusalem Bishop Thomas will be celebrating Mass for Palm Sunday of the Passion of the Lord from Rosary Cathedral at 10:00 a.m. on Sunday, April 5. Fr. Melwin and I will distribute blessed palms that day at Epiphany of the Lord– St. Stephen Church from 11:30 am to 12:30 pm.
Chrism Mass – Blessing of Oils The livestreamed Chrism Mass will occur at 11:00 a.m. on Tuesday, April 7. If you have never experience this beautiful liturgy, I highly encourage that you tune in! Bishop Thomas will bless the oils used for Baptism, Confirmation, Holy Orders, and Anointing of the Sick in the coming year.
Maundy Thursday – The Institution of the Eucharist and Holy Orders Bishop Daniel Thomas will be celebrating the Evening Mass of the Lord's Supper from Rosary Cathedral at 7:30 p.m. on Thursday, April 9.
Good Friday – The Passion of our Lord Bishop Daniel Thomas will be celebrating the liturgy of Good Friday from Rosary Cathedral at 3:00 p.m. on Friday, April 10. Do not forget that Good Friday is a day of fasting and intensified prayer.
Easter – The Resurrection of Jesus Bishop Thomas will be celebrating the Easter Vigil from Rosary Cathedral at 8:30 p.m. on Saturday, April 11. and Easter Sunday Mass from Rosary Cathedral at 10:00 a.m. on Sunday, April 12.
Livestream Links Diocese of Toledo Facebook Page- https://www.facebook.com/diocesetoledo/
Bishop Thomas' Facebook Page- https://www.facebook.com/Bishop-Daniel-E-Thomas-846185655421697/ 
In Christ, Father Gilbert Mascarenhas, SAC