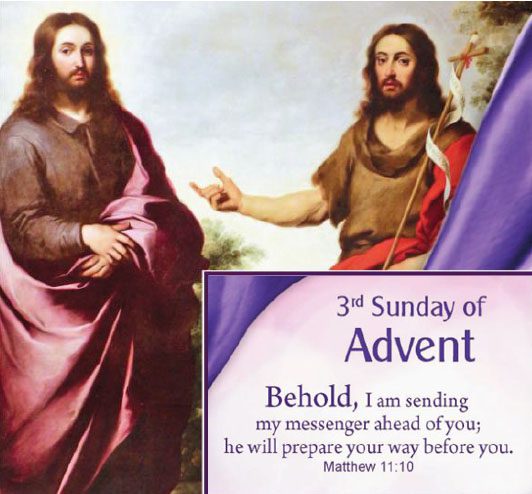 3rd Sunday of Advent
My Dear Friends in Christ,
We are now entering the third week of Advent, the week of joy. This week we will light the pink candle on our Advent wreath. How are your preparations going? I hope you are taking advantage of the Advent commitment sheets in the bulletin and placing them in the Advent box. John the Baptist came to prepare the way. Let us prepare and wait in joy as a community for the coming of the Lord. By preparing together, we can be that much more ready to celebrate Christ's birth together.
Speaking of joy, it was joyous seeing so many of you at the Rectory Open House this past week. Thank you to all who gave of their time to make it a fun occasion for all. This is just one example of a tradition that helps us prepare as a community. Fr. Melwin and I appreciate the cards, baked goods, and other gifts that you brought. Your generosity is overwhelming! I am especially thankful for your welcome as Fr. Melwin spends his first Advent and Christmas season in a new country and a new parish and with new (to him) weather!
In our readings this week we are asked to be patient. In our society where everything is instant and at the tip of our fingers, this can be a difficult task: we apply for a job and we want an immediate response, we have tests at the doctor's and we want the results right away but we must be patient. What is an area in your life where you struggle with patience? Ask the Lord to help you be a more patient person in this area.
If you haven't yet found a time to receive the Sacrament of Reconciliation, please make time this weekend. Fr. Melwin and I will be at Sacred Heart Church on Sunday, Dec. 22 from 1:30-3 pm. This is a wonderful opportunity for all us to receive God's graces and enter into the Christmas season with a fresh start.
Take advantage of this week of joy with your family and friends and continue to look for signs of the Lord's presence in your life with peaceful hearts.
I am pleased and blessed to be celebrating this season of Advent with you, my faithful parishioners of Epiphany of the Lord Parish, with great love and joy.
May this season of Advent continue to be filled with God's grace and peace.
Fr. Gilbert Mascarenhas SAC
"With a happy and cheerful face, we can prove that the imitation of Christ fills our lives with joy." – St. Vincent Pallotti