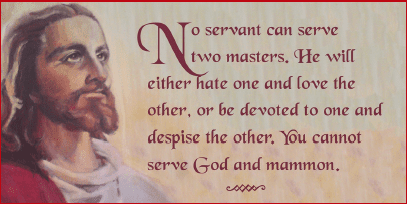 25th Sunday of Ordinary Time
"Put yourself into God's hands… everything will go well." –St. Vincent Pallotti
MyDear Friends in Christ,
As summer turns to autumn we are enjoying the beautiful weather, even as the air becomes a little chilly in the evenings. The sunsets have been most beautiful this past week.
Last weekend, we celebrated the wedding of Samuel Vandenheuveland Kirsten Smith. Congratulations! We pray that the Lord continues to bless your family as you begin your married life together.
At the 11:30 Mass, we were joined by Fr. Chris Bohnsackas celebrant. Our parish catechists received a blessing for Catechetical Sunday as they began the new year of religious education classes with our children. Several children joined the folk group to help lead the singing at Mass. We will be seeing more of our youth taking on roles at Mass throughout the year. They are a great blessing and the future leaders of our parish.
In the Gospel this week, Jesus points out that those who are trustworthy in small matters are also trustworthy in great ones, while those who are dishonest in small matters will become more and more accepting of greater dishonesty. Once greed takes over a heart, it is very hard to selflessly love and serve the Lord and our neighbors. This week, may we try to put others' needs before our own.
Our next baptism classwill be held on Sunday, September 29, at 1pm in the parish office. Please call the parish office to register if you have an infant or child up to age seven who has not been baptized.
As many of you may already know, our Epiphany of the Lord parish Pastoral Council, Finance Council,Facilities staff and volunteers have been working with local contractors and the Diocese of Toledo to assess and approve the needed repairs at our Sacred Heart Church.
This assessment was begun many years ago by faithful parishioners, and has been an ongoing endeavor. Iam pleased to finally announce that our hard work and diligence in this matter has come to fruition. On August 16, 2019, we received a letter of approval from Bishop Thomas for the use of funds from the prior sale of Sacred Heart School to complete the necessary repairs.
The repairs will include: Mortar Repair/Tuck-Pointing, Window Frame Repair/Sealant and Copper Dome/Flashing Repairs. A total of $300,000 has been budgeted for repairs.
We are currently awaiting verification of contractors' schedules before we receive a start date. However, they seem confident that some of the repairs may begin as early as this Fall. This project will require the use of a large man-lift to be located near the front entrance of the church building during the beginning phase of this project which will focus on repairs to the bell tower and two side tower areas.
As always, thank you for your patience and generous support. We will continue to keep you updated on this and other projects in our parish. Make it a habit to take a bulletin each week.
Serving as your pastor is a great blessing in my life.
Rev. Gilbert Mascarenhas, SAC